Vinoy Park | St. Petersburg, Florida
Get ready for the biggest and most incredible reggae festival of the year! The monster music extravaganza Reggae Rise Up just recently concluded its four-day run in Florida! The show was packed with tens of thousands of music fanatics, and the stage featured several big named headliners, such as Rebelution, 311, Sublime With Rome, Damian Marley, and Wiz Khalifa! Every year, the festival's line-up comprises the hottest music acts in modern reggae! This is why the show always sells out several months in advance! This 2024, the line-up for the four-day fest at Vinoy Park, Florida, has yet to be announced, but already the show is about to sell out! On Thursday, 14th March 2024, Reggae Rise Up is set to open the festival with a guaranteed killer line-up of performers! If you're keen on attending Day 1, then you better click on the Get Tickets link now before it's too late!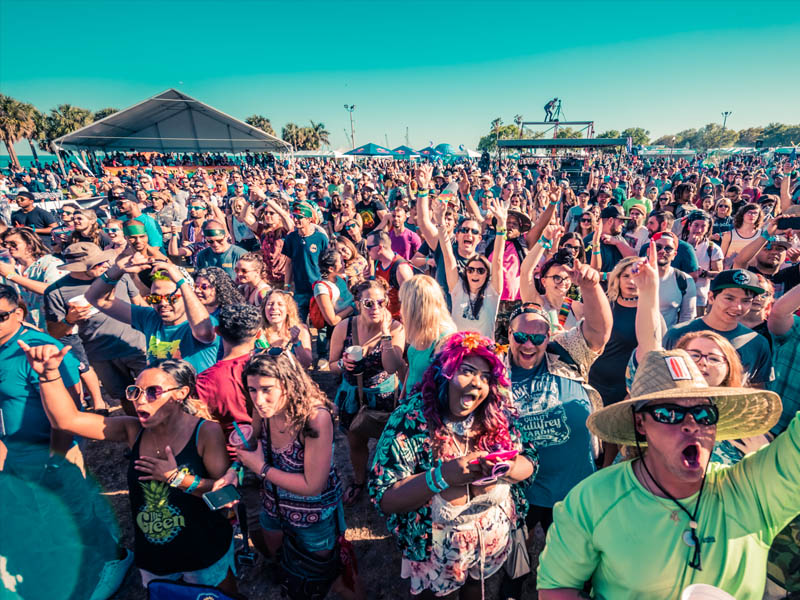 Since its inauguration show in 2015, the Reggae Rise Up Festival has been rocking Florida with a power-packed line-up. The festival brings in a number of prolific reggae, hip-hop, rock, funk, and jazz artists and puts them on the big stage for all music lovers to see. This incredible production has gathered fans from all over North America and 20 other countries. Every year, Reggae Rise Up attracts over 20,000 people on a four-day weekend run that starts on Thursday. Moreover, the multi-genre line-up also makes the show accessible to all types of music enthusiasts.
In 2015, Reggae Rise Up began as a one-day extravaganza featuring less than ten performers. Reggae rock sensations Rebelution headlined the first installment of what would be the biggest reggae fest in North America. The Grammy-nominated band was accompanied by other renowned artists, including Collie Budds and Steel Pulse. Together, they rocked the Raymond James Stadium and established the festival as a must-see annual affair.
The following year, Reggae Rise Up moved to St. Petersburg, Florida. Year two's line-up comprised Dirty Heads, Tribal Seeds, and Stick Figure – all sharing one big stage at Vinoy Park. In their third year, the Dirty Heads made their phenomenal return along with new performers Slightly Stoopid and Iration. With a total of 24 performers in 2017, the festival grew into a two-day spectacle covering Saturday and Sunday.
Just when fans thought that the festival couldn't get any bigger, the organizers announced that Reggae Rise Up 2018 would become a three-day spectacle. The remarkable line-up featured even more bands, including the return of reggae powerhouses Dirty Heads, Slightly Stoopid Rebelution, and Stick Figure. The following year, the festival welcomed reggae superstar Damian Marley for the first time.
This 2023, the festival's amazing success expanded to several other cities, including Las Vegas, Baltimore, and Utah. The plethora of performers included new performers Sublime with Rome, Koffee, and Wiz Khalifa. Together m, they shared the stage with 311, Damian Marley, Rebelution, Dispatch, The Elovators, and many more.
Tickets to Reggae Rise Up 2024 are now on sale, and they are moving fast! So, better hurry and score your passes now to see next year's edition!